CAPSTONE GREEN ENERGY CONTINUES ITS SUCCESS IN THE EAAS MARKET WITH A NEW C800S RENTAL CONTRACT FOR A DATA MINING OPERATION IN WEST TEXAS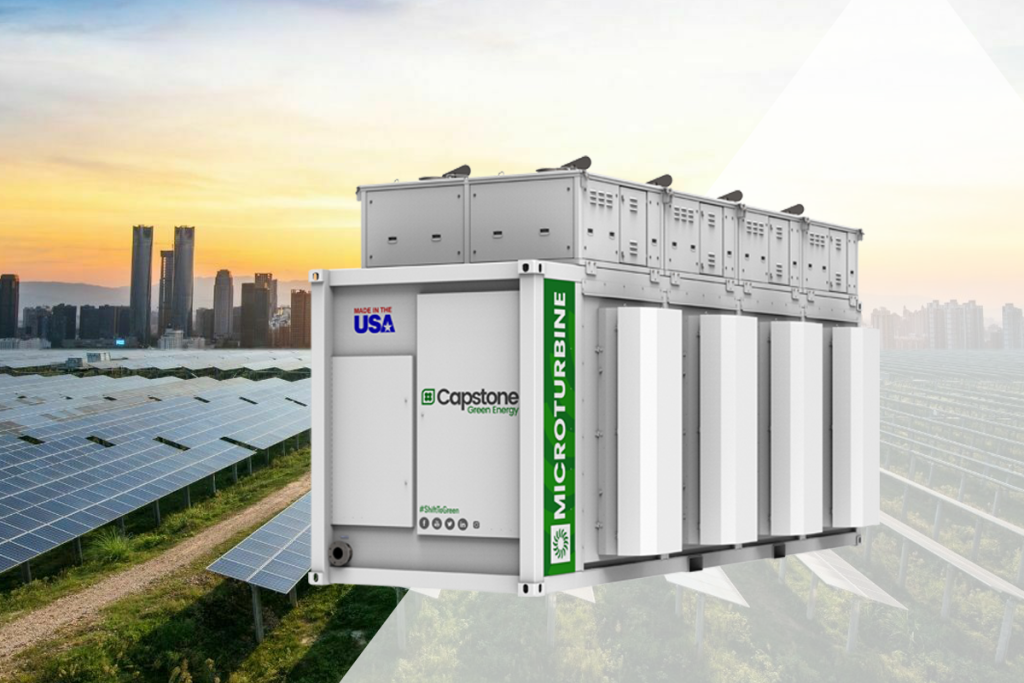 The 800 kW Microturbine Rental System Will Provide Reliable Power Using the Site's Waste Gas as Fuel
LOS ANGELES–(BUSINESS WIRE) — Capstone Green Energy Corporation (NASDAQ: CGRN), a global leader in carbon reduction and on-site resilient green energy solutions, continues to grow in the Energy as a Service (EaaS) market with a new 2-year rental agreement for a cryptocurrency data mining operation in West Texas. The contract was secured by Lone Star Power Solutions, Capstone's exclusive distributor in Texas, Arizona, and the Gulf States and is expected to be commissioned in mid-December. The customer is currently evaluating an additional 1MW system to be deployed in early 2023.
"Capstone continues to expand its EaaS business, including its long-term rental program, which is an important element in reaching our profitability goals as rentals generate higher margins than traditional product sales. The rental program eases access to Capstone's premium product, allowing customers to enjoy the benefits of clean, low-cost, reliable power where capital is limited or competing for other critical capital uses. We are seeing demand from emerging and rapidly growing industries with intensive energy needs like cryptocurrency mining operations which affirms the attractiveness of Capstone's EaaS approach and the growing size of our addressable market. With this latest contract, the Capstone microturbine rental fleet now stands at approximately 40 MW, with a goal of expanding to 50 MW by March 31, 2023," said Darren Jamison, Capstone Green Energy President and Chief Executive Officer.
Located on an oil and gas well, the customer approached Lone Star looking for an innovative way to monetize their existing on-site production gas, a byproduct that would otherwise go to waste to support on-site cryptocurrency mining. A Capstone C800 microturbine rental was chosen to replace an aging reciprocating engine that was unreliable due to the site's gas composition and extreme environmental conditions.
Cryptocurrency mining requires highly sophisticated computers, often in a data center, to solve complex computational mathematical problems. By their very nature, data centers require tremendous amounts of electricity. At a time when the utility grid is strained due to extreme weather, aging infrastructure, and inadequate transmission, on-site power provides a resilient alternative for energy-intensive facilities.
"Capstone's fuel flexibility and ability to perform without de-rating or maintenance issues on lower quality fuels won this project to replace reciprocating on-site generators. Capstone has a major advantage in the flared gas to crypto market. By harnessing the minimally processed field gases, fuel costs are minimized, allowing for substantial operational savings. Additionally, using otherwise wasted (flared) gases for bitcoin production minimizes the environmental impact of data mining activities," said Marc Rouse, Sales Director, Capstone Green Energy.